Drop in replacement handles for buck knives
Dess up your Buck with drop in replacement handles!!
Dress up your buck alpha or alpha dorado with custom replacement handles from a variety of exotic materials!
field grade
Field grade handles range from $30-$35 the materials include smooth and jigged bone, wood, acrylics and micarta. I have a vast array of colors and patterns available for custom orders.
Supplying your own scale material?
Many of my clients wish to supply thier own handle material in this case labor prices are $20 to make a set of handles from your supplied material. The needed dimensions for the slabs are the following.
Buck Alpha 4 1/8" x 1 3/16"
Buck alpha Dorado 3 3/4" x 1 1/4"
The field Grade handles are very durable and rugged especially the micarta materials that are nearly indestructible.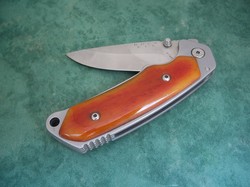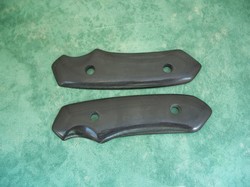 Exhibition Grade
The exhibition grade ranges from $60 and up. These handle materials are mainly used for display knives, or collectors peices but many wish to use a knife with these handle materials as well.
Turn around time for custom order handles is around 4 months
Some of the exhibition materials include pre ban elephant ivory, mammoth ivory, sambar stag and american elk stag. Many of these handle materials are not kept in stock due to price but can be ordered by the customer or myself on request of a custom order.