Sheaths
Leather Sheaths
I offer custom sheaths for all the knives I make. I can also make sheaths for other knives, axes, hatchets and tools.
For examples of my work check out the Gallery in the toolbar to your left. Or check out our leather product homepage at www.possumhollowtrading.com
Reproduction sheaths
I can reproduce sheaths for vintage knives including but not limited to ka-bar style combat knives, cattaraugus 225Q, western hunting knives, case hunting knives, and every manner of vintage sheaths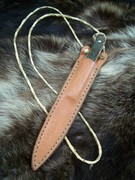 Kydex Sheaths
I also offer custom kydex sheaths for the knvies I make as well as knives, axes, hatchets and tools you may already have.