Catalog
Trench Knives
Our trench knives are based off of historical designs used during WWI and WWII and some designs of our own. Each model trench knife carries its own set of serial numbers stamped either into the blade or the grip. Sold as collectors items, but are fully functional and are in the hands of service men in active duty all over the world.
Handles for these models are cast during favorable weather. I generally do no casting between the months of October and April. Therefore lead time on orders for these can vary greatly depending on when the order is placed.
BC-41
The BC-41 trench knife was used by Britsh Commandos during WWII . The standard model features a selnder clip point blade with a 5" cutting edge and sharpened false edge. The blade is firmly rivited in place to the spiked sand cast brass grip with three hand hammered steel pins. Standard blade orientation is true to the original type, blade down with the cutting edge towards you. This blade orientation was used on the originals so the knife could be put into action quickly and utilized with repeated hammer fist blows to the target. Very natural feeling and it did not require a great amount of training to be effective. Comes with a hand stitched bridle leather sheath. $400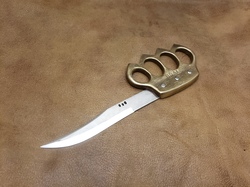 Clements
The Clements style trench knife was very similar in shape and construction to the famed BC-41 but instead of brass, it normally featured an aluminum grip devoid of spikes. My version uses the same slender 5" clip point blade, rivited into a sand cast aluminum grip with hand hammered steel pins. This is a very light knife. Comes with a hand stitched bridle leather sheath. Standard blade orientation is the same as that of the BC-41. $400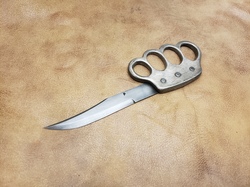 Deaths Head
The Deaths Head knife otherwise known as the Middle Eastern Commando knife was used by British Commandos serving in the middle east during WWII. My version has a heavy brass grip, with generous sized stalls that is cast directly onto the blade. Standard blades are 4.5" long spearpoint blades, double edged. Comes with a hand stitched leather sheath of a profile similar to the originals. $500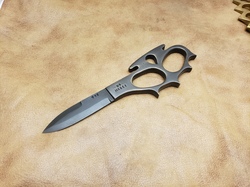 Apache Icepick
From the era of the Parisian gangs comes the Apache icepick. Originally made and sold in France in the late 1800's . My version features a solid brass grip, with threaded tool steel spike 3.5" in length. The spike and quickly be threaded out, inverted and threaded back into the handle for easy and safe storage. $485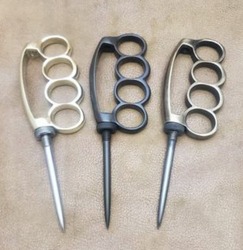 French Nail
They say neccesity is the mother of invention, that couldnt be truer than with the French Nail. First seen during WW1 the French government lacked a widely issued military knife, first forged in the field from salvaged German concertina wire fenceposts these knives were made to be simple and quick to produce to fill the need of soldiers and trench raiders on the front lines. Our version is hand forged from 1/2" diameter 01 Tool steel, made as close to original specifications and we could muster and features a brushed finished 7" dagger ground blade standard. Other lengths, blade profiles and finishes available on request. Comes standard with a kydex sheath but can be supplied with hand stitched leather or period correct wooden scabbard at an additional cost. Starting price $150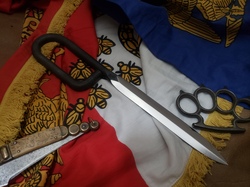 U.S 1918
6" long 5/32" thick 01 dagger blade with a 1918 style handle cast directly onto the blade from either your choice of aluminum or brass . Comes with a reproduction M6 style sheath. Hand stitched leather available for an additional $50 Starting at $500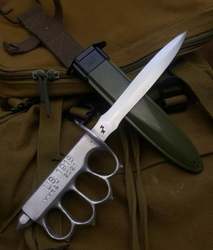 Trench Cleaner
The "Trench Cleaner" as it was often referred to is a WWI era French combat knife design and manufactured by Henri Caux. While dimensions varied somewhat between era and shops this high quality reproduction was made as close to the original specifications as possible. Featuring a massive 8" dagger ground blade and a beefy 4.5" handle made from a single piece of 3/8" thick 5160 this would have been a formidable weapon in the trenches and would still be practical for modern applications for Military or even collectors and re-enactment. The hand forged belt clip also helps fill out the hand nicely for a very secure grip. Also comes with a hand stitched brown bridle leather sheath constructed much in the same way of the originals with the buckled belt loop attachment but from heavier/stronger modern materials. $425 shipped.