Hunting and utility knives
Hunting and Utility Variety
This portion of my lineup consists mainly of hunting knives and knives devoted to utility purposes. All models are availible in 1/16", 3/32" or 1/8" thick L6 carbon tool steel. Availible in scandi, saber or flatground with brushed, mirror polished or hand rubbed finishes with clean or primitive flats. With or without sheaths. Prices are for knife alone, please see sheath pricing.
Drop Point hunter
My drop point hunter features a 4" flatground blade and a 4 3/8" handle. Designed to be the most versitle hunting knife you can have. It excells at gutting, skinning and boning operations and was designed to do as such. Starting price $125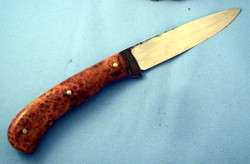 Broken Trail
The Broken Trail is a drop point hunter with a 3 3/4" blade and 4 1/8" handle. This knife features a full flat grind with a micro bevel for superior cutting and slicing. Made solely for skinning and field dressing operations the Broken Trail will serve you well on all future outdoors expeditions. Base Price $170 w/ sheath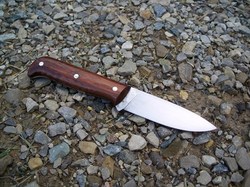 Wharnecliffe EDC
My wharnecliffe EDC incorporates my very comforatable PSK 3 finger handle only with a versitle 3 3/8" wharnecliffe blade with a 1/2 grind standard. overall 6 7/8" starting price $125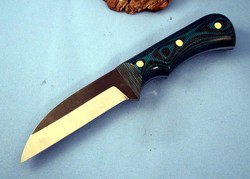 Clip point hunter
The clip point hunter is a slender general purpose hunting, skinning and utility knife with a blade and handle of 4 3/8" long. Standard with two pins and a lanyard tube and micarta handles. Brushed finished Base Price $165 w/ sheath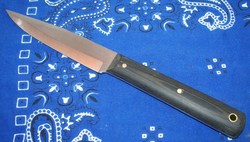 Caper
The standard package caper has a 3" drop point blade of 1095, flat ground to a zero edge, which then has a micro bevel applied, has a polished finish, three brass 1/8" pins, 1/4" thick handle slabs of wood or micarta. Right hand leather sheath of 8 oz vegtable tan cowhide, hand stitched with artificial sinew, natural oil finish, and a rivited belt loop that will accept belts up to 2" wide. Base price is $150 w/ sheath.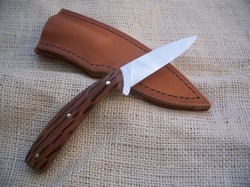 Minimalist Drop point
A simple neck knife that weighs in at approx 1.5 oz with sheath. These are made from simmonds files and have a forged lanyard curl at the end of the handle. These are tempered to take an edge easily but will still hold the edge well. They come standard with a 3 1/4" flat ground blade, stock thickness is approximately 3/32" thick and an upside down carry kydex neck sheath with adjustable 550 cord. $75