Switchblades
Repair and Restoration of Spring Operated Knives
I offer repair and restoration services for most vintage switchblade knives. I can fabricate most parts needed that cannot be replaced with originals or repaired. Please see the gallery for many examples of switchblades that I have restored.I have a fixed hourly shop rate, it doesn't matter if it's a $5 knife or a $5000 knife, the time spent will dictate how much your bill is, contact for ballpark estimates
American Switchblades
I am one of the only repairmen in the country who is willing to even attempt major repairs on vintage American switchblades of the many George Schrade patents. These brands include Schrade Cut, Schrade Walden, Presto, Press Button Knife company, Schrado, Remington, wade and butcher, E. Weck, Case XX. I can fix most any issue with your knife; Broken kicksprings are very common with these older knives as they were quite thin. I can replace them with a new spring that will last for many years to come. I can fix major play, blade peek, knives that fail to lock open and/or closed. ECT Most repairs require disassembly to some degree.
These repairs can also be made to some of the heavier built lever and button operated switchblades by makers such as Case and Kabar.
I do NOT work on switchblade knives by imperial, hammer brand, edgemaster, shur snap, or colonial
Restoration
Restoration known more commonly as "professional cleaning" is done to remove as much damage as possible from all metal parts and re applying finishes as close to factory as possible and usually without disassembling the knife. This covers blades ,backspring, bolsters and handles. I offer restoration services on all knives and most range from $35-45. Please contact for more information on the best procedures, finish, and relavence of restoring your knife.
German Switchblades
I also offer many services for German switchblades. All too often old leverlocks have thier kicksprings break because they slip out of place in the knife. I replace these broken or missing springs with new ones that will never slip out again and should last a lifetime. I can fix play, blade peek and most any problem on most German automatics such as Hubertus, Bonsa, J.A Henckles, G.C. Co, F.A. Bower, Ritter, and kissing cranes just to name a few.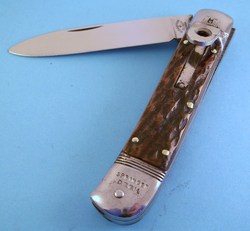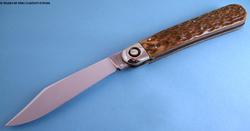 What I won't Do
I will not swap parts between knives to make a common knife into something very rare. Anything that requires complete disassembly gets my MM mark stamped discreetly inside the left liner so if anyone is curious about a knife they can glance in there and see if it has ever been apart in my shop.
I also do not service knives by hammer brand, shur snap, edgemaster, rizzuto estiletto milano or colonial.
Italian Switchblades
I can repair most any problem you masy be having with you Italian switchblade as well as american, German and other switchblade. I can replace damaged or missing springs, handles, buttons, and other small parts.