Catalog
Meattrapper Handmade knives for the Outdoorsman
All Meat Trapper Models (with exception of the pelting knife) are available with 3.5", 4", 4.5" and 5" blades to accomodate most skinning or butchering tasks.
Prices listed include a kydex sheath with neck/baldric cord. Leather sheaths with neck cord, belt loop or belt clip can be supplied at an additional cost.
The models featured on this page were designed in collaboration with "The Meat Trapper" and are made for user comfort and to excell at the skinning and processing of game for the outdoorsman and 21st century hunter, trapper, gatherer.
These knives are ground thin and are designed for flesh only.
Email: muskratmanknives@gmail.com to order
Meat Trapper Pelter
With a time tested and field proven ergonomic handle that is comfortable in most any position the Meat Trapper pelter is an excellent tool for the field or fur shed. The flat ground and mirror polished 2 1/4" pelting style blade of L6 high carbon tool steel excells at fine detailed tasks and "opening" cuts on game and furbearers. Starting price $225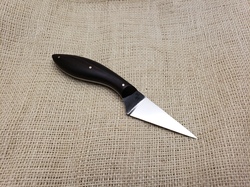 Meatfinger
The meatfinger is a modern take on the classic trailing point skinner. With a thin flat ground blade of 1/8" thick mirror polished L6 high carbon steel it is excellent both for skinning and boning out of most game animals. Starting price $225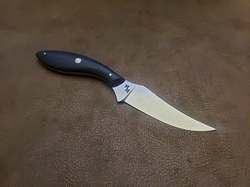 Meat Trapper Skinner
The meat trapper skinner features a polished flat ground skinner blade of 1/8" thick L6 high carbon tool steel. Combined with the very ergonomic and user friendly meat trapper handle design featured on all MT models this is an excellent choice for any hunter, trapper, outdoorsman or taxidermist who finds themselves skinning game on a regular basis. Starting price $225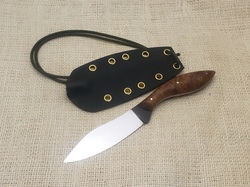 Meat Trapper Boning Knife
With a slender flat ground and polished boning blade of 1/8" thick L6 carbon steel this knife is an excellent choice for processing medium and large game and makes a fine trout and bird knife. Starting price $225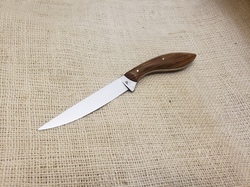 Meat Trapper Drop Point
This flat ground drop point blade of polished 1/8" thick L6 high carbon steel and the ergonomic meattrapper handle makes this one of the finest small game and skinning knives you can own. Starting at $225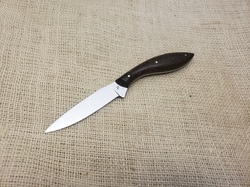 Field Processing Kit
The Meat Trapper field processing kit consists of your choice of any two Meat Trapper models housed in a dual sheath with a honing steel. The sheath has a belt attachment via dual belt loops, and a removable adjustable leather shoulder strap. Sheaths are all hand stitched 9oz bridle leather available in black or brown. Custom colors on request from hand dyed 9oz premium veg tan leather. Shoulder straps are flexible and soft 2/3oz leather for comfort. Starting price $600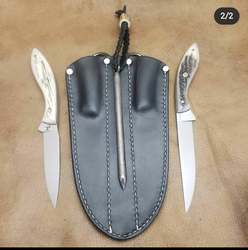 Beavertail Skinner
The beavertail skinner was designed specifically for processing large amounts of beaver for the fur market or any type of skinning where the user may prefer a round pointed skinner to reduce the risk of damaging the fur during the skinning process. As with all Meat Trapper models it features the ultra ergonomic Meat Trapper handle design as well as a 4.5" long, 1/8" thick mirror polished L6 high carbon tool steel blade. Starting price $235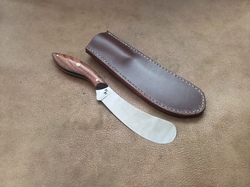 Beavertail Skinner
The beavertail skinner was designed specifically for processing large amoutns of beaver for the fur market or any type of skinning where the user may prefer a round pointed skinner to reduce the risk of damaging the fur during the skinning process. AS with all Meat TRapper models it features the ultra ergonomic Meat Trapper handle design as well as a 4.5" long 1/8" thick mirror polished L6 high carbon tool steel blade. Starting price $235