Bushcraft and Survival Knives
About my Bush knives
My Bush knives come standard with (2) 3/16" brass pins and (1) 1/4" brass lanyard tube and canvas micarta handles. Standard grind is my modified scandi grind, but I can also do full flat grind (I do not reccomend a true scandi grind). They come standard brush finished with primitive or clean flats. Clean flats come hand rubbed or I can mirror polish the entire blade at an extra cost.
Any color micarta and natual materials can be used upon request as well as other size/material pin stock. As usual the blades are of full tang design from L6 high carbon tool steel. This steel takes a very keen edge and holds it while being easy to sharpen. Standard thickness is 3/32" but is also available is 1/16" and 1/8" thicknesses. If you have any questions that are not in the FAQ please feel free to contact me.
I offer two handle thicknesses 1/4" slabs and 3/8" slabs. Overall naturall the 1/4" is thinner and will ride better in pocket or boot and is better for people with smaller hands. The 3/8" slabs lend thierselves to be highly contoured and are better on a knife that will be used for extended periods of time.
I also offer the option of fiber spacers between the handles and tang to act as a buffer and shock absorber and it adds a bit of class. $5 extra
All Bush Models are available with leather or kydex sheaths. Kydex provides a vast array of carry options
Bushcraft
My Bushcraft knife is a spearpoint design. 8 1/2" OAL. Thick highly contoured ergonomical handle to prevent "hotspots" when using for extended periods of time. Starting price $125w/o sheath or up to $165 with sheath w/ sheath . Blade is 15/16" at widest point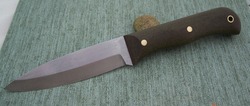 PSK Bushcraft
You have the same ergonomics and comfort of the fullsize bushcraft in a 6 1/2" (OAL) package that slips un noticed into your pocket, or it can be worn on belt or around the neck. blade is 15/16" at widest point. $125 w/o sheath up to $165 w/ sheath. sheath is stadard belt style, wallet style backpocket sheath, or boot clip sheath or pocket, belt or boot extra.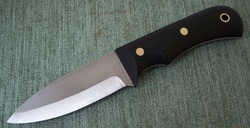 Full Tang Puukko
This is my interpretation of the classic scandinavian pukko design with a modern twist. This incorporates the same thick contoured handle (and other options)as the bushcraft but has the straight pukko style blade. Starting price $125 w/o sheath up to $165 w/ sheath. Blade is 15/16" at widest point and 8 3/4" OAL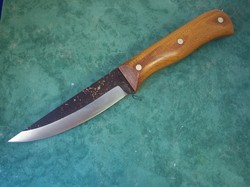 PSK Puukko
At 6 3/4" OAL this little cutter is easily tucked away around neck, on belt, in pocket, or boot but still has tremendous cutting power and comfort. $125 w/o sheath up to $165 w/ sheath. Sheath is belt style, back pokcet wallet style sheath or clip style sheath for pocket, belt or boot extra. Blade is 15/16" at widest point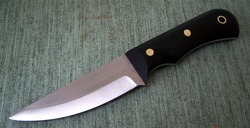 Bushcraft Necker
An even more scaled down version of my PSK bushcraft slimline and lightweight and ready for the field. with a 2 7/8" blade and 3 1/2" handle it's a perfect 3 finger knife ready for field operations or your next hunting excursion. Base price $130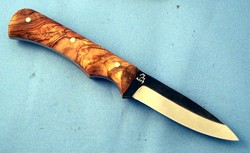 Woods Pal
The woods pal carries all the same great features as my Full tang puukko, it's actually just a 3 1/8" bladed version but retains full size blade width and handle length! Unlike the puukko standard thickness of handle slabs are 1/4" each, standard with two pins and one tube. Full size handle and short blade gives excellent leverage and control. Bushcraft counterpart (Bushmate) coming soon! Base price $150 w/ sheath
Pocket Puukko
The pocket puukko, a straight bladed counterpart of the bushcraft necker. 3" blade 3 1/4" handle, standard model is 1/16" L6 (for light weight) contoured canvas micarta slabs w/ two pins and lanyard tube, and kydex sheath, carry it in pocket, around neck, tek-lok it on your belt or gear, stow it away anywhere the most handy little blade you'll ever own and weighs next to nothing Base Price $130 w/ kydex sheath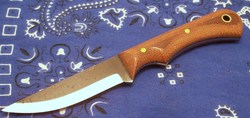 Survival Shiv
Muskrat man knives new "survival shiv" is a small emergency survival knife that is small enough to fit into a standard altoids tin. It comes with a formed kydex sheath that doubles as a handle for light duty chores. If more substantial work is to be done it is easy to fashion a quick handle from a stick and lash the blade to it with the supplied 6' of bankline. 1/16" 1095 high carbon steel blade with a 2 3/8" cutting edge, scandi ground (other grinds available on request) 90 degree spine for use with ferro rod. Specify sheath color when ordering, black, OD green or coyote brown $40